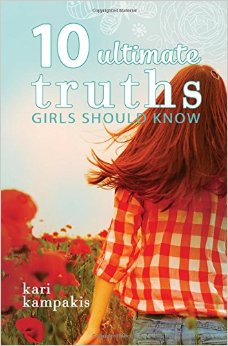 10 Ultimate Truths Girls Should Know by Kari Kampakis is a book written for the teens and tweens as well as their mothers. The book claims to be a Christian way of bringing up daughters but is for anyone who is interested in bringing up her daughter the correct way.
The seeds of the book were sown when Kari wrote a speech when she was invited by a counselor friend of hers to speak to a group of girls. The talk struck a chord with the girls and she was invited again the next year. Sometime later, she wrote a blog 10 Truths Young Girls Should Know that has been shared on Facebook over 75,000 times and pinned on Pinterest over 28,000 times. The popularity led Thomas Nelson to come out with the book titled 10 Ultimate Truths Girls Should Know.
The book expands her basic 10 guidelines for young girls from the blog post in form of 10 commandments like
Kindness is more important than popularity
You were born to fly
Trust God's plan for you
I especially liked the chapters on confidence and perseverance because I could instantly connect with the ideas. The chapters tend to get preachy and longish at times but after finishing a chapter it's just the messages that remain with you. I also liked the discussion questions at the end of each chapter and the small quizzes interspersing the content. These can be good starting points for initiating discussions with your own daughters.
If you are a teenaged girl getting confused by your own as well as your peers' behavior, this book is for you. If you are a young girl who wants to chart out the correct future path for yourself, this book is for you.
If you are a mother who wants to bring up good, caring and loving daughters, this book is for you. If you are a mother who feels your daughter has a problem but you don't know how to broach the subject with her, this book is for you.
I call this book a great resource and handbook for every mother who has to raise daughters.