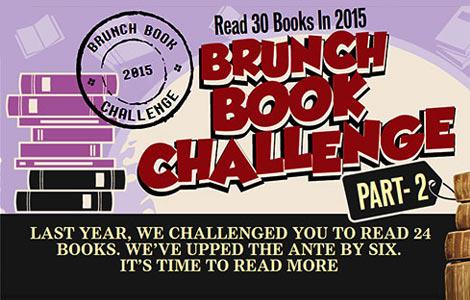 The first Sunday of 2015 was a special one for me. My maid decided to take an unannounced leave. Our plan of a sumptuous lunch of fish curry and rice went down the drain. As I washed the utensils, I tried to think of something simpler to cook for lunch, which would not be too much of a letdown for my daughter. Suddenly my husband came rushing to the kitchen, waving the newspaper excitedly in his hand. He insisted I wipe my hands and read it immediately. Though reluctantly, I did so. It was the #BrunchBookChallenge Part 2 announcement. I read the ad through and resumed my work, my brain already working at a feverish pace.
30 books to be read in a year, 2and ½ books per month, as they put it. Could I manage it? Will I have the time? How many books had I read in the past year? Five, ten or fifteen? I couldn't be sure. Moreover, most of the books I read were repeats, books like Prizes, Doctors or As the Crow Flies that I read often because they are my favourites and I pick them up when I am feeling especially happy or sad. I hardly read five or six new books last year. So buying and reading 30 books would be a daunting task.
Then I realized that it was a voluntary challenge for me to accept. It was an opportunity for me to resume my avid reading habit. If I could not complete the challenge, there was no penalty for it. Moreover, I was already reading a book I had started two days ago. So may be that was the good omen. So I decided to take up the challenge and plunge in it head on. Till now I have already completed three books and here is a lowdown on all of them.
Revolution 2020
2nd January was the first working day of the year. After a late lunch I felt like reading a book. A book that I had not read till now. On souring my bookshelves I came across Revolution 2020 by Chetan Bhagat. I had tried reading it way back in 2011 when my husband had bought it but could not go beyond 10 pages. Anyway, for lack of anything better, I started reading it and managed to complete it. The writing style was simple to the point of being not called any style at all. It seemed to be written for being developed into a film. It was more of a plot outline rather than a complete book. The only thing that kept me going was I wanted to know what happened in the end. And not by straight away reading the last 2 pages!!
Half Girlfriend has also found its way into my bookshelf. Let's see when I will be able to complete it.
The Omen
The Omen by David Seltzer was the second book I have read this year. You might be surprised that I haven't read this thriller masterpiece till now. Well, I knew the book by reputation but as I was prone to bad dreams till my college days, I chose not to read it. However, as they say, all is well that ends well. I finally read the book, in one sitting, so engrossed I was in it. Robert Thorn's search for Bugenhagen was especially gripping.
Be Careful What You Wish For
This Part 4 of Clifton Chronicles by Jeffrey Archer was true Archer from cover to cover. I had not read it till now thinking that I would read parts 4 & 5 together, but that was not to be. When I went to order books from Flipkart to start on my 30-books odyssey, this was the first book I ordered. And now I can't wait for the next one, which is claimed to be the final book of the series.
The book had me in its grips from page one, when I started by hoping that Sebastian was not killed. And the last page has left me craving for more. Kudos to Lord Archer for not letting his fans down ever!!
 I will keep you posted on the books that I read. Meanwhile, you can let me know the book you are reading now. Or better still, why not join the HT BrunchBookChallenge Part2.