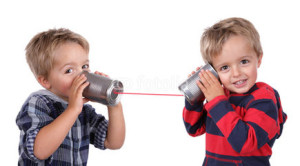 The importance of communication cannot be emphasized enough. Recently, my husband and I missed on an important seminar in our city just because of non-communication. Let me tell you how.
The organizers of the event are old acquaintances. I personally don't agree with their way of conducting business and their general moral compassing. So I don't exactly enjoy their company and evade any invitations extended by them. My husband believes in keeping up connections in his network, so he does go to their events once in a while, even if just to register his presence.
This time it was different. They had organized a seminar of some prominent people in the region, which included some good speakers. The topic too was close to my heart: How to Make Bokaro a Greener and a Better Place. I very much wanted to attend such an august gathering discussing something that was so pertinent in my day-to day existence.
We received our invitations well in time and were pretty excited by it. However, a couple of days later I read some obnoxious news about the organizers. My first reaction was – I am not attending the seminar, I don't want to be associated with them in any way. I was so emphatic in my statement that my husband never tried to discuss going there again. He knows how stubborn I can be and didn't want to face my full-blown ire.
I think he also got confused by the news item and did not know what he should do. I say "I think" because we never discussed the issue. There was no further communication on it for the time being. Attending the seminar got a backseat in the ensuing weeks due a very hectic schedule. A couple of days before the event he proposed to me tentatively that we should consider attending the seminar as we might not get such an opportunity in near future. I replied as tentatively that I was not sure but could consider going.
We let it drop at that and there was no further communication on the issue till the day after the seminar when we read rave reviews about it. Only then did we sit to discuss it and realized that we had missed on this opportunity just because we had not communicated to the other person our feelings and ideas.
He assumed that I was very clear-cut in my stand and I felt he was not raising the issue because he was not keen on going. Whereas, the truth was that each one of us was weighing the pros and cons of going for the event, without coming to any specific decision.
If only we had taken the pains to discuss together, tell each other what was going in our minds, without harboring pre-conceived notions about the other person's reaction, the outcome might have been different.
As a relationship grows older, we think that we know the other person so well that we know how they will react to any given situation. However, that is where we err. Even if the person is the same, each situation is unique and hence the reaction to that situation is bound to be unique. So we need to communicate what we are feeling and what we feel the other person is feeling. There never can be anything like over-communication between two people.
When I say relationship, it could be between a couple, two colleagues, boss and subordinate or manager and the team. As time progresses and a level of comfort seeps in, the same taking for granted attitude and pre-conceived notions set in.
These are my three learnings from this episode:
Never be over-confident about what the other person's reaction to a situation will be.
Never feel shy about sharing your own thoughts and ideas.
Never give a final verdict without thinking through a situation.
You must also have missed out on something important due to no or less communication between the parties involved. Do share your experiences in the comments below.