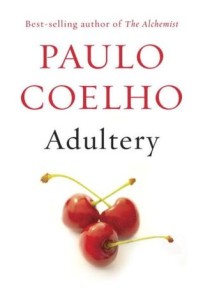 I just finished reading Adultery by Paulo Coelho. I have merely one word for the book: Incredible. It is only the third book that I have read by him, but as usual it has left me craving for more.
The first half of the booked dragged a bit, like the protagonist. As she delved deep into her mind and moved in a perpetual rigmarole, the book seemed to take the same circuitous approach. Sprinkled of course with Coelho's insights about human mind, body and soul.
Half-way through, the book picked up pace as the leading lady found the fog around her mind clearing up. But the best was saved for the last 40-odd pages when she delves into her soul and tries to find meaning behind her existence.
I find Coelho's writing to be abstract and unwieldy at times but the clarity with which he presents the abstractedness of human minds is brilliant. I have read The Alchemist and Eleven Minutes too. With those books as well I found the first half a bit drawn out unnecessarily but at the end the narration left you with a desire to continue.
Adultery is the story of a woman in her thirties, who has been married ten years, has everything that she could want but still is unhappy.
Adultery is the story of that woman in pursuit of happiness. Which translates into a quest to discover oneself and try to understand the reason behind one's existence.
The book tells you that you must keep testing your limits to understand yourself. You must keep learning from whatever you do. For that is how you will find true love and love is everything to live for.
The love you find need not be, and rather should not be, the carnal love. It should be a love for yourself, for God, for humanity and for everything that you do. If you do something not out of love but obligation or compulsions, you will lose meaning of life and drown deep into the abyss of meaningless existence.
One of the characters in the book says:
We aren't what we want to be. We are what society demands. We are what our parents choose. We don't want to disappoint anyone; we have a great need to be loved. So we smother the best in us. Gradually, the light of our dreams turns into the monster of our nightmares. They become things not done, possibilities not lived.
And that is not what God planned for you. God wants you to live your every dream. God wants you to be happy and satisfied.
God wants you to learn to love till you are one with the Universe around you and find true happiness.